The Theme Options of ListingPro will grant you full control of your Directory Business.
The settings are divided into sections, each one of them has its own predefined actions.
The full list of Options you'll see such as follows:

Follow along this article to know everything that's at your disposal
General Settings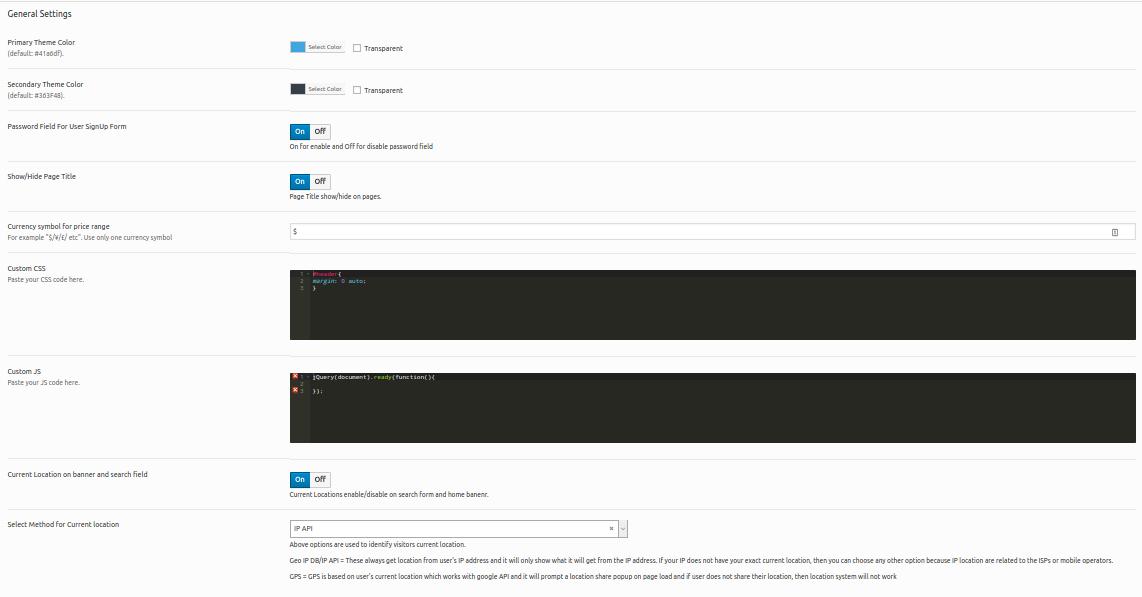 The General Settings has a few options in this beginning. There, you can change the theme color, page title, change currency, enable password field, banner location and the settings for the auto-location. Also, you'll have two editors where you can insert custom codes, CSS/Javascript to customize styles, and behaviors of your directory.
User Dashboard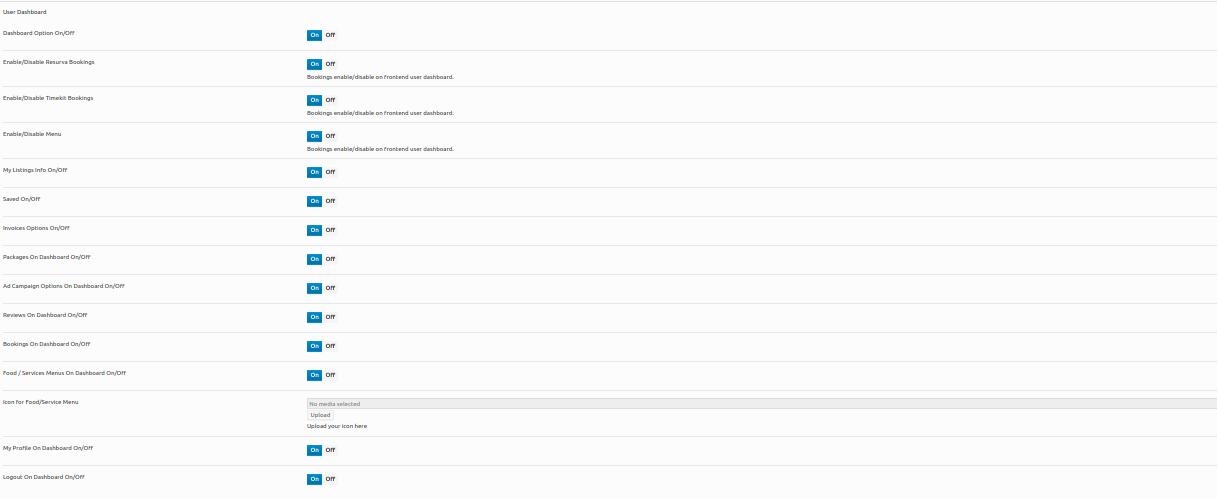 The User Dashboard gives you the flexibility to enable/disable options for your own users while using their dashboards on the front-page. Listings, Favorites, Invoices, Packages, Campaign, and others, are also available in this list. If you wish to disable some of the functions for your end-user, you can exclude it from their dashboard in this section.
Typography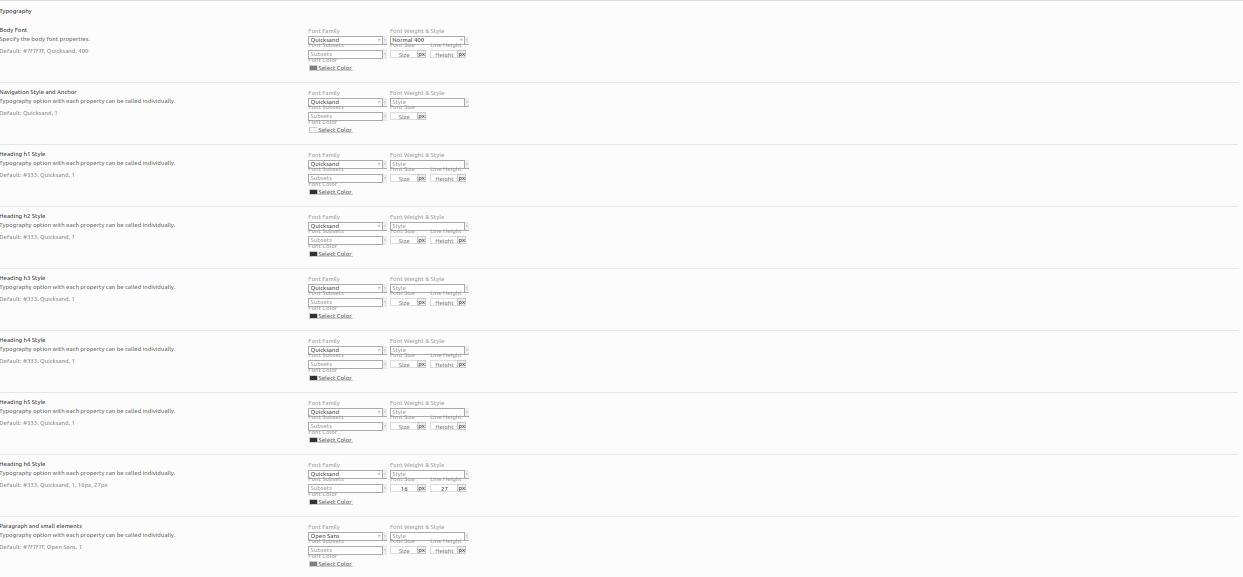 The Typography says for itself. This is where you can make changes to your font-family, font-size, colors etc. You'll find changes for body page, navigation style, heading H1 up to H6, paragraphs and small elements.
Header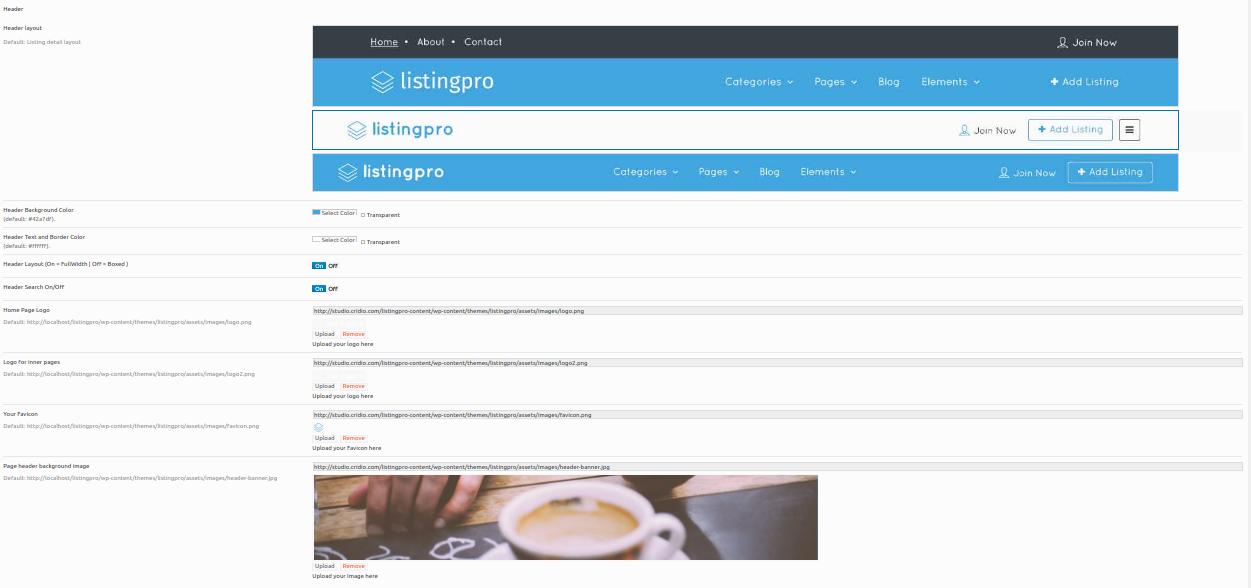 The Header, you can edit the header layout, color, search bar, and insert your business logo for homepage, inner pages, and header background image. Here you bring your business identity into life.
Banner Settings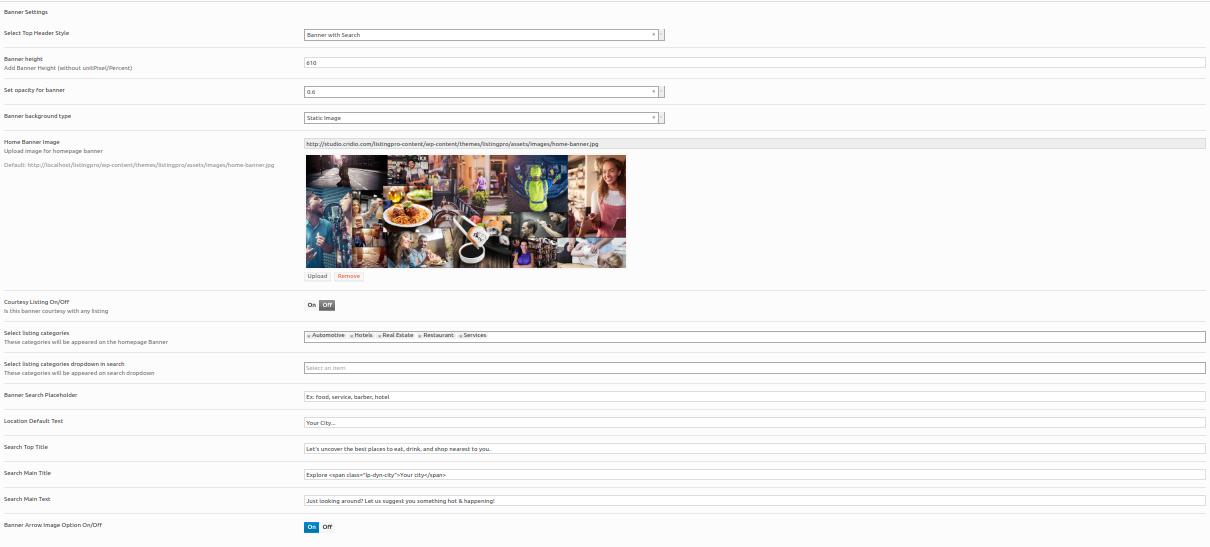 The Banner Settings you'll be able to change the homepage layout, choose between image, video, and map for your top header, as well as to enable the PlacesPro layout. nonetheless, you can select your categories for the search bar and the drop-down list. Down below you change the title and descriptions that appear on your homepage.
Map Settings

The Map Settings, have only one function, which is to include your map API. You can also select between Google Map and a customized Mapbox API.
Bog Settings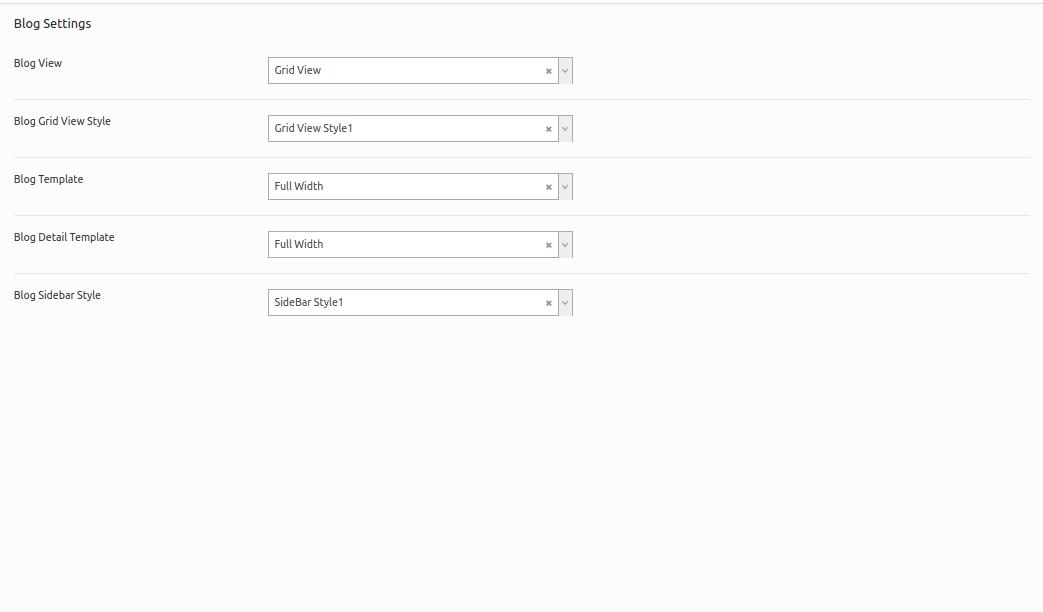 The Blog Settings, you'll define the styles and sidebar options. There are 5 options where you can configure those styles.
Listing Settings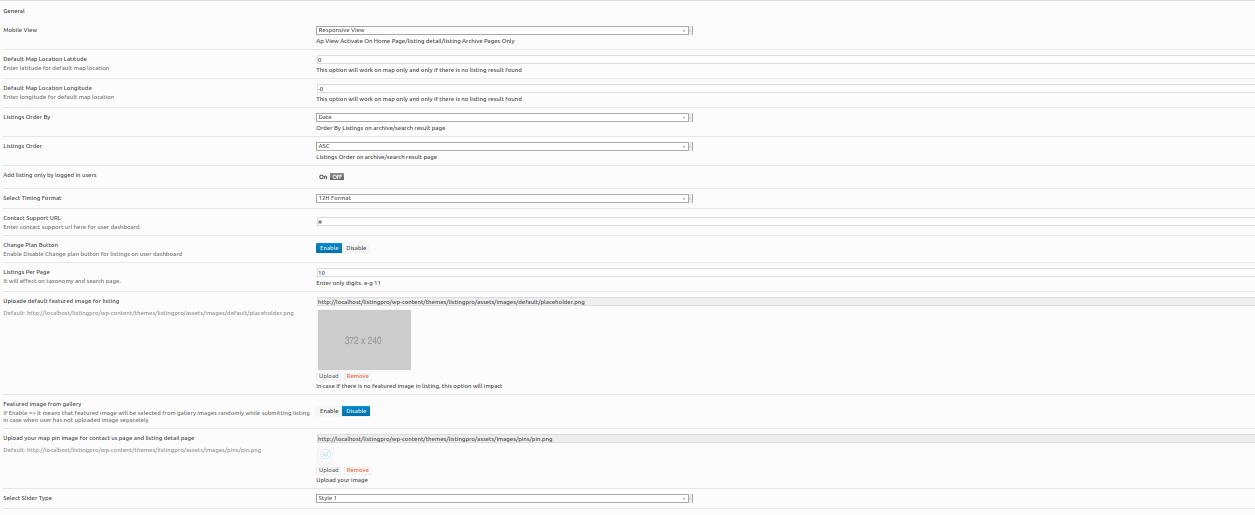 The Listing Settings is one of the most extensive in the Theme Options. Due to its extensions, you'll find more details divided by sub-sections, such as the detail page manager, listing view, submit & edit, location, reviews, leads form, listing claim, listing nearby and Google Adsense. The general option you'll have some other options like default map location, listing order, time format, featured image for listing, map pin, and others.
Search Filter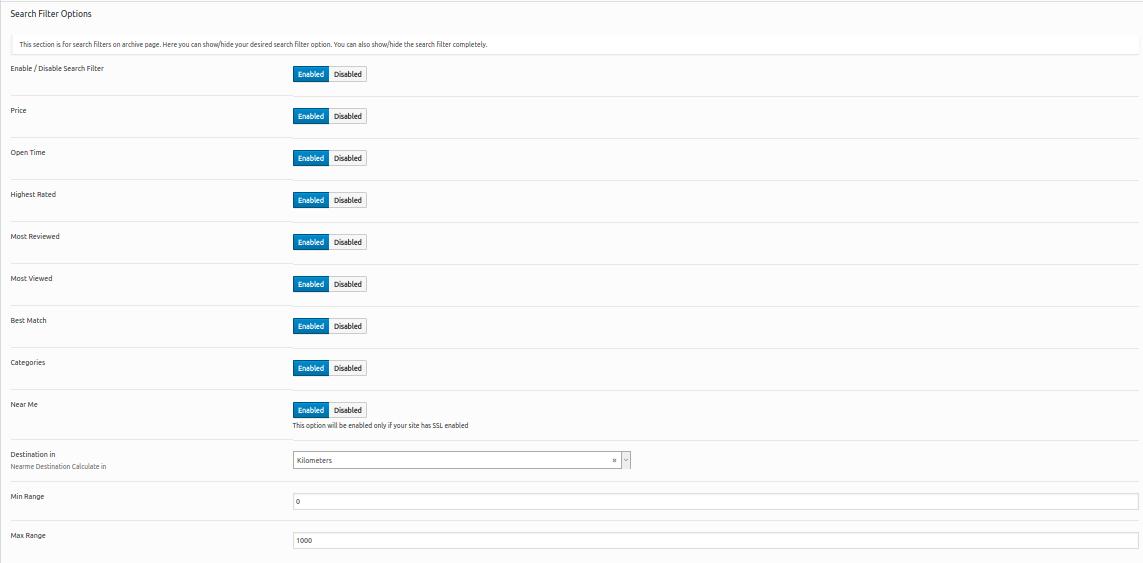 The Search Filter gives you the option to enable/disable the filters for your search results. Price, open time, highest rated, most reviewed, most viewed, best match, and others are available in this section. When you enable or disable such filters, users will see these options to filter and customize their results after a search result.
Search Settings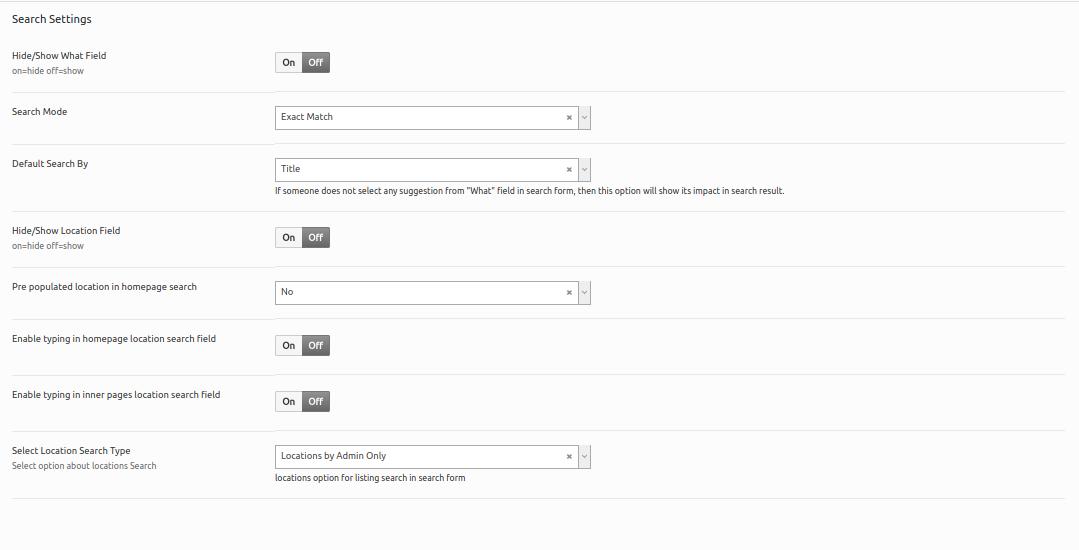 The Search Settings will be responsible for the search bar on your homepage. This section you can show/hide "what" and "location" field, you can also define if the search mode will filter by the exact match while typing or random match. The default search can be set to title or tag/keyword. The location search can also be defined by admin or through the Google auto-location.
Payment Settings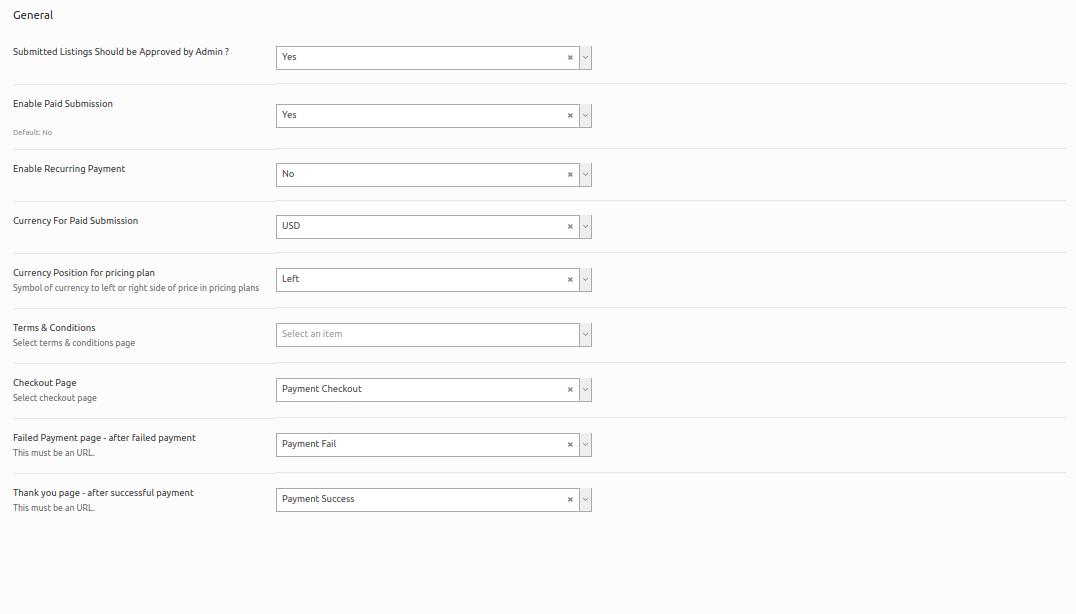 The Payment Settings is divided by the type of the gateway, Paypal, Stripe, Tax, Wire Payment and others will be available as sub-sections. In the general settings, you can define your currency, add the predefined pages like payment checkout, payment fail, payment success, currency position left and right, recurring payment, and others.
Email Management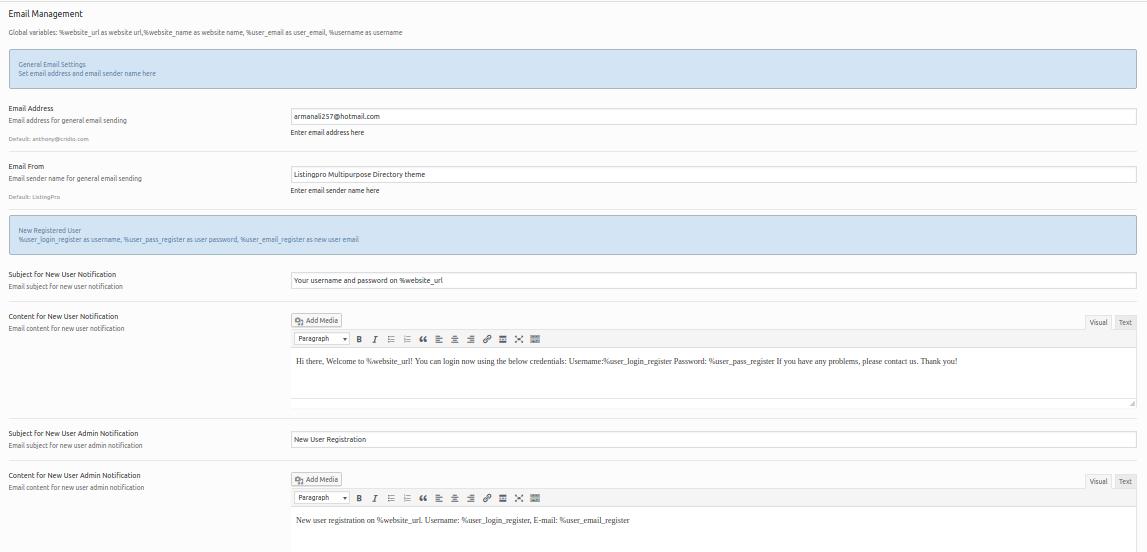 The Email Management gives you the default emails that admin/user will receive after procedures made through a specific action in the directory. Notifications like submissions, activation, reminders, expired plan, reviews, and others are available. Each default email contains simple shortcodes that you can edit and customize the order and style of your messages.
Invoice Options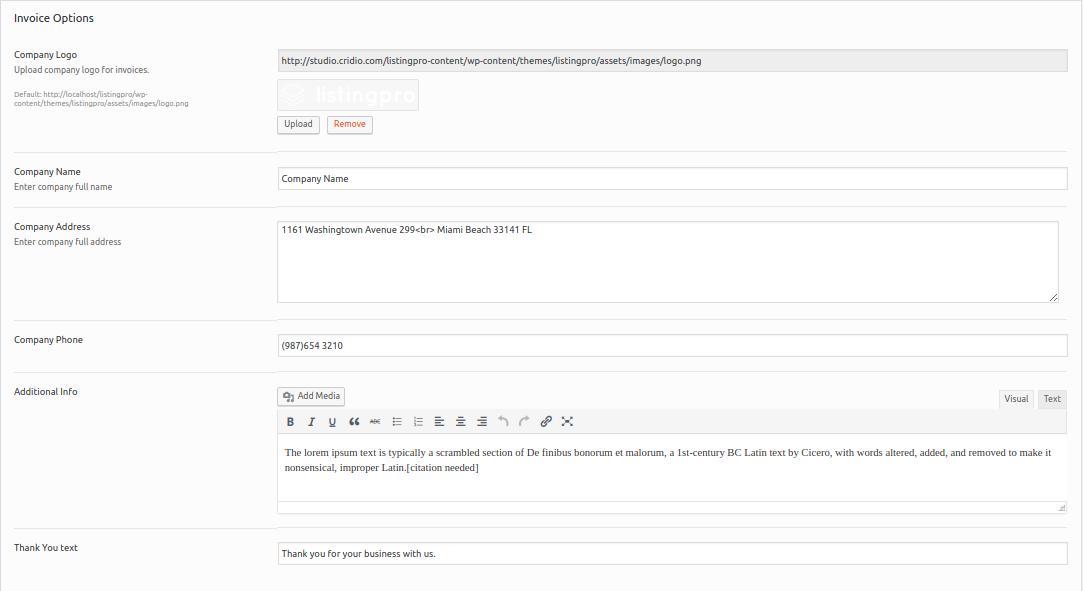 The Invoice Options, will be available for your customers after a wire transfer payment, and also for paid submissions for listings. You can include your directory logo, business name, address (if applicable), phone number (if applicable) and additional information to your users.
Ads Options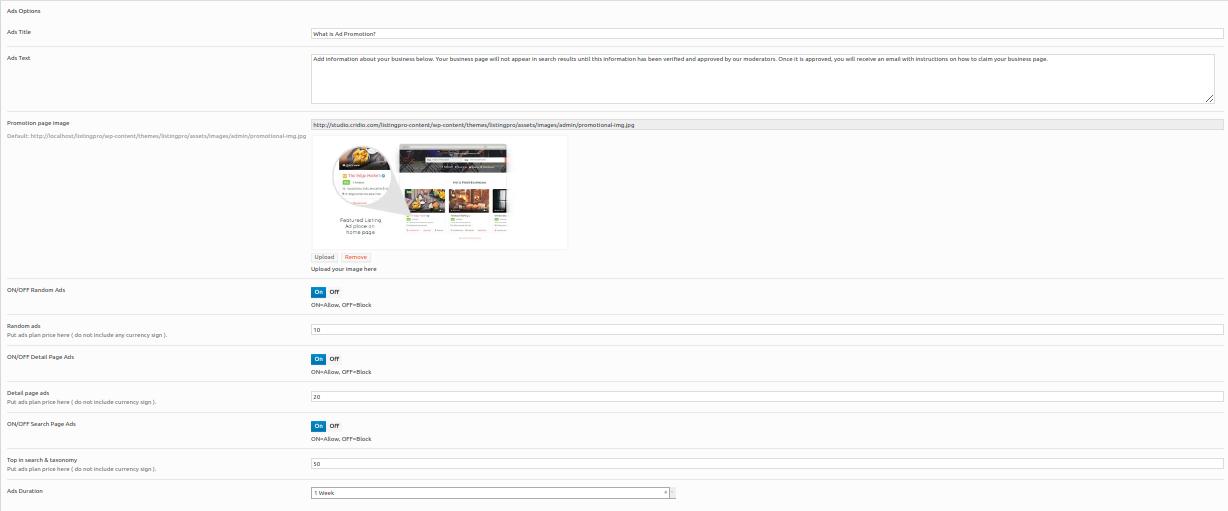 The Ads Options will define settings for campaigns within the directory. There are three options available for campaigns, random ads, detail page ads, top in search & taxonomy. The price can be defined in these settings as well, also the duration of the campaigns.
Form Captcha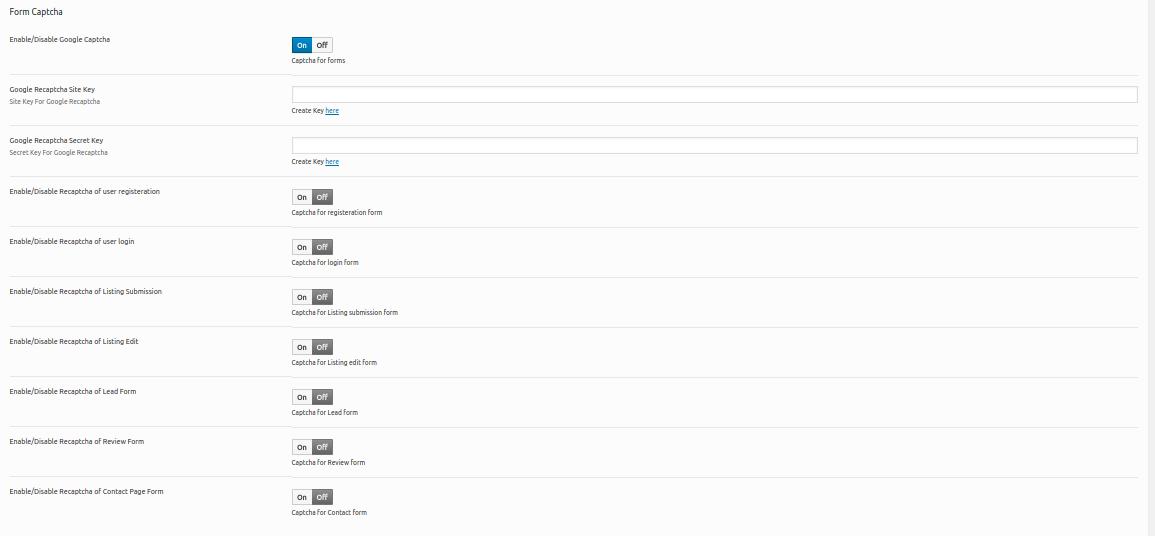 The From Captcha enables you to protect your directory in a variety of sectors, including, registration, login, listing submission, listing edit, lead form, review form, and contact form. Just include the Google Recaptcha API and you're good to go.
URL Config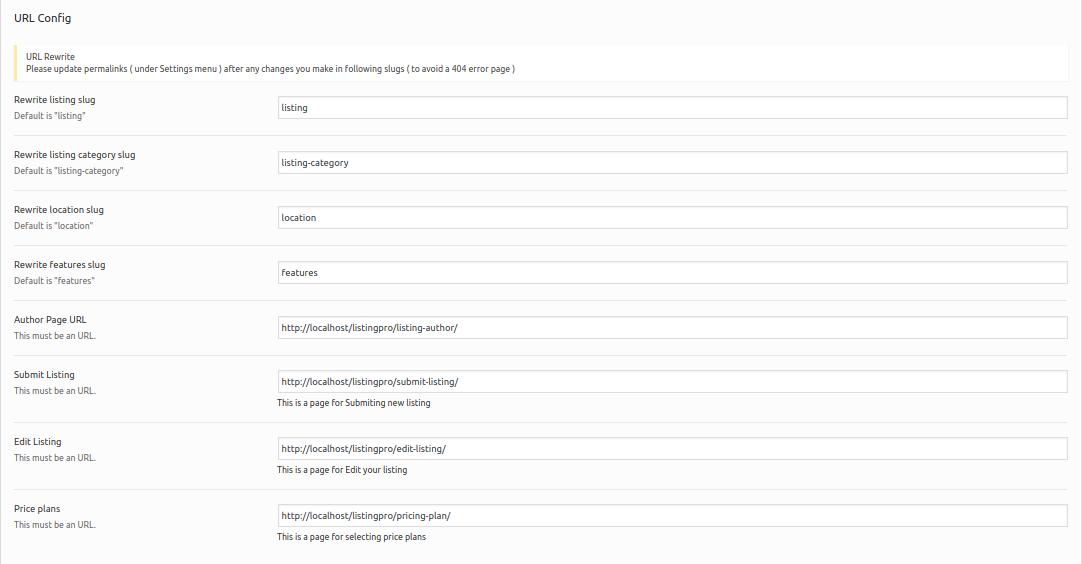 The URL Config avoids 404 errors on your directory. This section is where you need to insert the URLs for the following pages, author, submit listing, edit listing, price plans. Also, you can edit and customize the URL slugs of your directory, including listing, category, location, and features.
Contact Page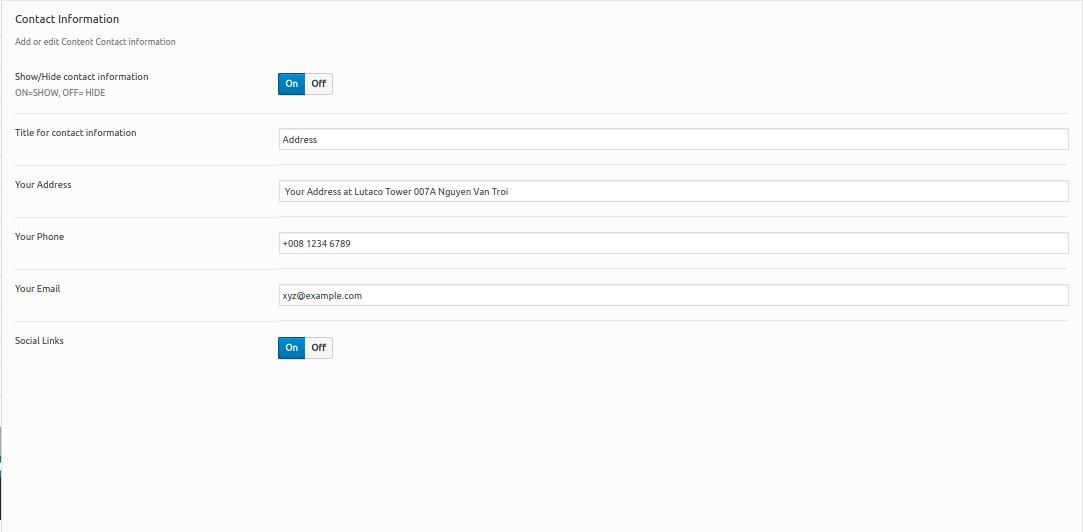 The Contact Page is where you leave some information to users to get in contact on the Contact Us Page. You can include social links, address, phone number, contact email, or even hide the contact information. You'll also find sub-sections for more settings like form settings and map settings for the contact page.
Footer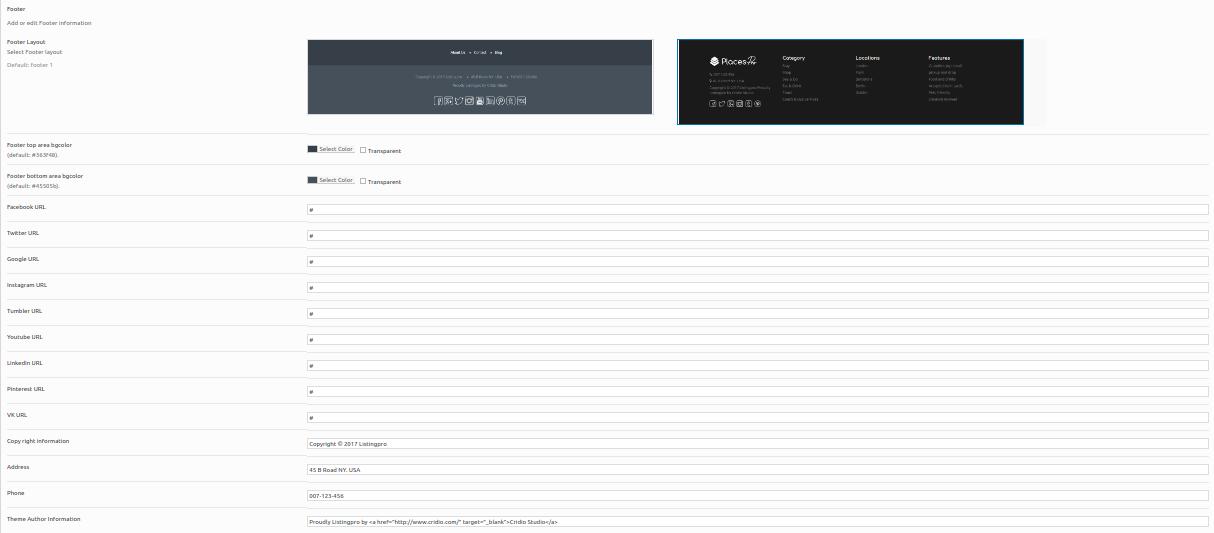 The Footer, you can change the style, color, and insert social media URLs etc. The second layout enables you to extend the footer through widgets.
Import/Export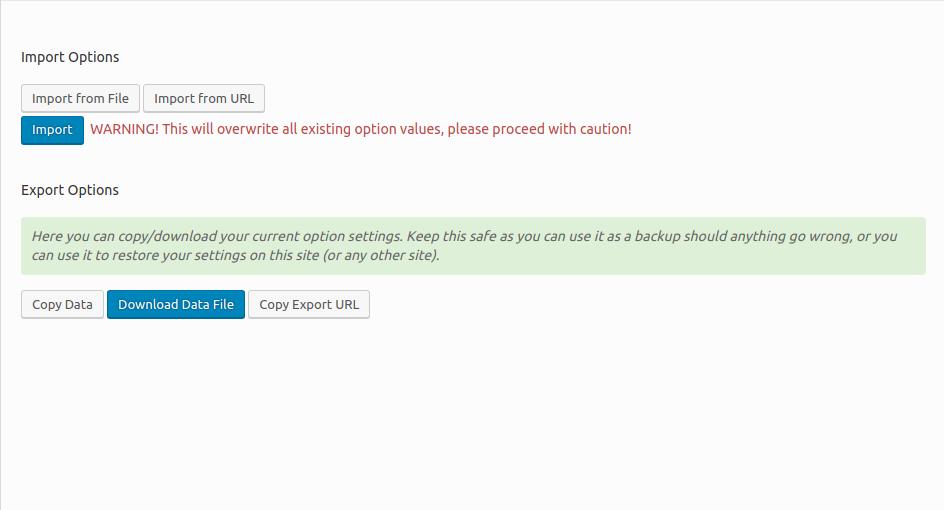 The Import/Export will help you in case you want to save all of your settings in the Theme Options, as well as to keep a safe backup for further issues. It's always recommended to export and download your latest settings.