A very common issue that occurs with users new to installing WordPress themes is a "Broken theme and/or stylesheets missing" error message being displayed when trying to upload or activate the theme. This error message does not mean that the ListingPro theme you have purchased is broken, it simply means it has been uploaded incorrectly

If you have downloaded all the files, you have to unzip it and select the correct file (ex. listingpro.zip).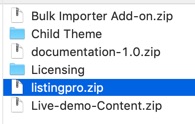 Please make sure you are uploading only the installable theme which is called listingpro.zip. If you upload ALL other files you will receive an error.
Upload the Installable WordPress file admin area
Log in to your WordPress admin area.
Browse to

Appearance

>

Themes

Click on 'Add New'.
Click 'Upload'.
Browse and select the theme zip file to 'Upload'.
Upload Via FTP
WordPress files can also be uploaded manually via FTP.
Upload the files to /wp-content/themes/ folder on your server.
Login to your WordPress admin area to change the theme.
For more information, you can also refer to the following article.