YOU MUST BACKUP BEFORE UPDATING.
WE ARE NOT RESPONSIBLE FOR ANY LOSS.
Generally before making any major changes or updating your WordPress, Theme or Plugins it's very important that you must backup all your necessary files by taking a
full backup
(See below,
PART 4
).
Once you have a fullback, you are also responsible to make sure that every time there is a new release of the theme or plugin, all your customizations (See below, PART 1) or translations (See below, PART 2 & 3) are not affected by the update. In order for you to make this process smooth please make sure you have completed the steps mentioned in PART 1, 2 & 3 if they apply in your case.
PART 1: MOVE

CUSTOMIZATION

TO CHILD THEME 
If any customizations have been made to the parent theme files, it will be overwritten after the update. So we highly recommend that you must install the child theme and move all your customization to the child theme.
STEP 1: Make sure Child Theme is installed and active. (If not, see How to install a Child Theme?)
STEP 2: Locate ALL the custom code changes made (either by you, your developer or even by our custom-services team upon your request).
If you are unable to locate the files in which the changes were made, please contact the person responsible for the changes. If it was our custom-services team who was responsible and there is a ticket regarding this, please update the ticket requesting the details.
STEP 3: Move all custom code changes to the child theme.
When you move a file that includes custom changes (example header.php), the file name and the path in the child theme should match with the parent theme. (
Watch Video
)
PART 2: MOVE THEME 

TRANSLATION

TO CHILD THEME 
For a step-by-step instruction on how to move Translation to the Child Theme, go here.
PART 3: BACKUP PLUGIN TRANSLATION FILES
STEP 1: Go to /wp-content/plugins/listingpro-plugin/languages
STEP 2: Download and save .po and .mo
The .po file name will be different based on the language, example for spanish it will be listingpro-plugin-es_ES.po.
After updating the theme make sure to restore the .po and  .mo file in the same location and go to WP Admin > Loco Translate > Plugins > ListingPro Plugin, select the language translation file and click Sync and then Save
PART 4: BACKUP FULL THEME & PLUGIN 
We highly encourage you to take a full backup of your WordPress Installation including files and database using any popular WordPress Backup Plugins. (
Watch Video
)
Backup via cPanel (Recommended)
STEP 1: Log into cPanel > File Manager.
STEP 2: Go to wp-content/themes/
STEP 3: Right-click  listingpro, and then click Compress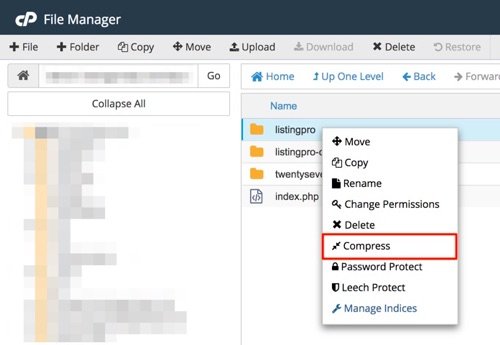 STEP 4: Next, right-click  listingpro-child (if applied in your case), and then click Compress
STEP 5: Finally, go to wp-content/plugins/
STEP 6: Right-click  listingpro-plugin, and then click Compress
Make sure to download all the backup files locally that you compressed aboved (listingpro.zip, listingpro-child.zip, and listingpro plugin.zip).
Now you can proceed with the update.
PART 5: SELECT HOW YOU LIKE TO UPDATE 
There are primarily two ways to update our WordPress themes to the latest version, choose one option.
| | |
| --- | --- |
|  [lana_button size="lg" type="danger" href="https://docs.listingprowp.com/dwkb/how-to-auto-update-listingpro-wordpress-theme/"]AUTO UPDATE[/lana_button] | [lana_button size="lg" type="success" href="https://docs.listingprowp.com/dwkb/how-to-manually-update-listingpro-wordpress-theme"]MANUAL UPDATE[/lana_button] |