STEP 1: Login to WordPress admin dashboard.
STEP 2: Select Pricing Plans
STEP 3: Select Add New Price Plan
STEP 4: Enter a Title. (Example: FREE or PREMIUM)
STEP 5: Check the boxes next to each option to Show on the Listing Details Page, leaving it unchecked will disable it from this package. ( Currently, there are following options as shown in the screenshot)

STEP 6: Select a Package Type.
OPTION 1: PAY PER LISTINGS (Auto-Recurring Available)
If you select Pay Per Listing, during listing submission the users will only pay for ONE single listing. Auto-Recurring option will be presented to users during checkout when they select Stripe as the payment gateway.

OPTION 2: PACKAGE (Auto-Recurring NOT Available)
If you select Package, during listing submission the users will pay for MULTIPLE listing in advance like a bundle deal or credits. Auto-Recurring is not supported in this option.

For Package option, you will have to assign the number of listings included in the Packages. (Example: 100 total credits, as shown in the figure above.)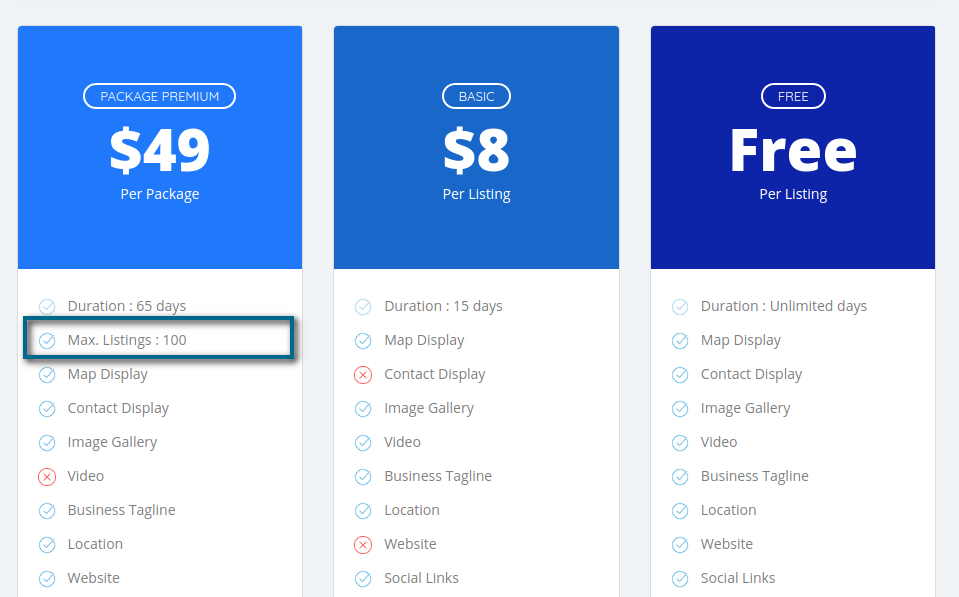 STEP 7: Select a color for pricing table's  top portion.
STEP 7: Enter your Price value only, without any currency symbol.
To offer an FREE Package leave it blank.
STEP 8: Enter your Duration value only.
Currently, You can Set the value in the number of Days Only.
Example: 7 = 1 Week | 30 = 1 Month | 365 = 1 Year
In the example below, we have set the duration to 1 Month.

If you leave the above field blank it will set to never expire (unlimited time).
STEP 9:  Check the box next under Hot Plan

Example: Hot Plan will appear as shown below.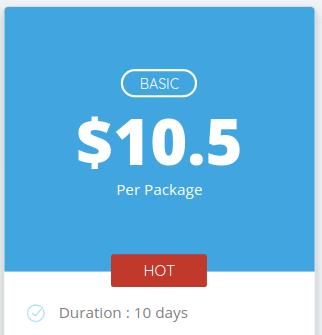 If you have Multiple Packages, you can display your packages as follows. See 
Live Example
.